Temps son espace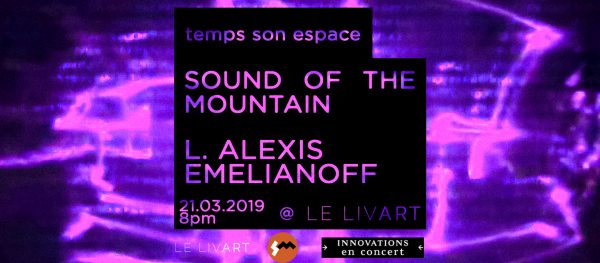 Innovations en concert, le Livart and Productions SuperMusique co-present an evening of exceptional music in two parts. Sound of the Mountain and L. Alexis Emelianoff interpret and question the notion of "future" through their art, which is manifest in explorations of sound. 
Sound of the Mountain
A duo featuring the hollowed-out sounds of Elizabeth Millar and Craig Pedersen on amplified clarinet and trumpet, Sound of the Mountain comes from a strong history of improvisation and extended performance techniques. Their sound language merges acoustic and electronic textures through close amplification. They create long-form improvised soundscapes, evoking a vast range of textures, from silence and spaciousness, to rumbling bass and room saturation.
L. Alexis Emelianoff
L. Alexis Emelianoff is a Montreal-based sound artist who invents and plays with acoustic and electronic instruments. Her approach is very divergent and depends on the exploration of materials research and physics; temperature changes, magnetism, as well as conductivity of water, all animated her installations.
This concert was realized with the generous support of the SOCAN Foundation.
We acknowledge the support of the Canada Council for the Arts, which last year invested $153 million to bring the arts to Canadians throughout the country.