Isla Tortuga/Turtle Island : Taqralik Partridge et Guido Del Fabbro // Géraldine Eguiluz et Ziya Tabassian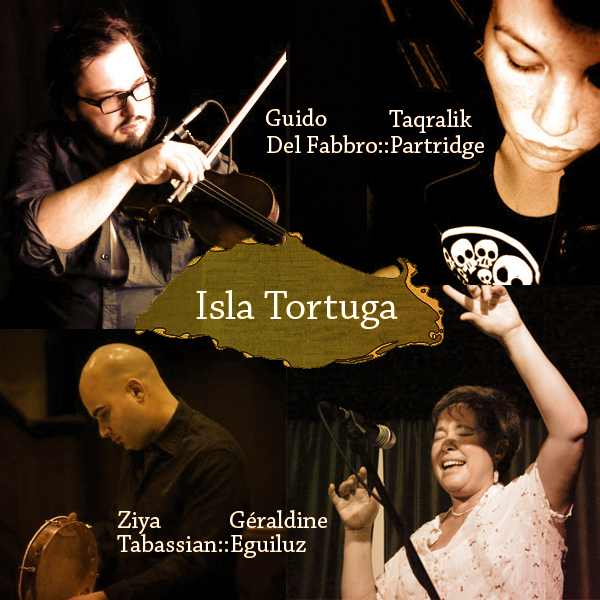 Canada's indigenous peoples are often striking by their absence in the contemporary music scene. With this in mind, Innovations en concert presents a double programme featuring sounds and words from these vital cultures.
Taqralik Partridge and Guido Del Fabbro
It's an honor to welcome Inuit spoken word artist, writer and throatsinger Taqralik Partridge and violinist/electroacoustician Guido Del Fabbro, a mainstay of Montreal's creative music scene, to Innovations en concert. Together they will present a moving tapestry of real-life stories, choppy rhymes, barely-breathed lullabies and throatsinging – a performance which doesn't shrink from depicting heavy subjects.
"When Taqralik Partridge performs, you can never tell what you'll hear next: an amusing satire… a delicate lyric, or a raucous barrage of high-speed lines, delivered straight from the gut." -Jim Bell, Nunatsiaq News (2006)
Géraldine Eguiluz and Ziya Tabassian
Our double programme also includes a performance specially created for the occasion!
A spontaneous public encounter between Mexican-Canadian composer/singer Géraldine Eguiluz and percussion virtuoso Ziya Tabassian, at Montreal's 2012 Mardi Spaghetti improvised music series, was the impetus for Innovations en concert to commission a new composition: Voies des terres dorées. Arising from the background of Géraldine's extensive research of indigenous musics of the Americas, this fascinating work portrays a musical spectrum stretching from the dawn of human emotion and consciousness, embracing our diverse civilizations and evolutions.
"…une des voix les plus génuines de la nouvelle musique contemporaine du Mexique…"
(www.billetstours.com)
The name Turtle Island is used today by many indigenous tribes and activists to describe North America. We hope that you'll join us for a concert which pays homage to our continent's original culture!
"Voies des terres dorées" by Géraldine Eguiluz was commissioned with the support of the Canada Council for the Arts. We acknowledge the support of the Canada Council for the Arts, which last year invested $157 million to bring the arts to Canadians throughout the country.