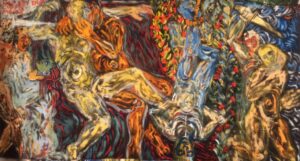 Please note that due to circumstances beyond our control this concert has been postponed from April 9 to April 24.
In collaboration with Cinéma Public, Innovations en concert and Ambiances Magnétiques are proud to present Intimités, a collection of videos produced by Farid Kassouf and Andrés Salas with music by Émilie Girard-Charest and Fredrik Rasten.
This event will also highlight the release of the eponymous album by Émilie Girard-Charest, bringing together four of her chamber music works from which the videos were made – Asyndètes for string quartet; Effusions for violin, cello and piano; Heurts for violin, cello, piano and percussion, as well as Intimités for four cellos and four double basses.
In addition to the program: a performance by Émilie Girard-Charest (cello) and Yves Charuest (saxophone) in dialogue with images by Farid Kassouf and Alexis Pautasso.
Émilie Girard-Charest
Émilie Girard-Charest is a cellist, composer and improviser. Both as a soloist and in various ensembles, she has participated in more than sixty creations and collaborated with many composers including Malcolm Goldstein, Cecilia Arditto, Graciela Paraskevaídis, Enno Poppe and Jorge Diego Vazquez. Her works have been performed by various ensembles including Quasar, Zukan, Continuum, Totem Contemporain, Novarumori and as part of the NO HAY BANDA concert series. She regularly performs in concert, both in Canada and in Europe and South America. 
She has several recordings to her credit, including Intimités (2022, Ambiances Magnétiques), Impermanence (with Violeta García, 2021, Inexhaustible Editions et Tour de Bras),  Enthousiasme viscéral (with Sergio Castrillón, 2019, Mikroclimat), Uncanny Valley (with Marc Vilanova, 2017, audiotalaia), Émilie préfère le chant (2016, Ambiances Magnétiques), Race with time (avec Mart Soo, 2016, Improtest Records), Avec (2016, Kohlenstoff Records) and Musica in camera (Quatuor d'occasion, 2014, &records).
Farid Kassouf
Farid Kassouf is a Montreal filmmaker who studied communications and journalism. After two years in the field of video production, he decided to perfect his talents at the Cégep de Rivière-du-Loup where he trained in documentary filmmaking. Today he is a bookseller at the Le Port de tête, where he each day immerses himself in novels and poetry.
Andrés Salas
Andrés Salas is a Colombian visual artist living and working in Montreal. His research focuses on the intersection between mining, critical infrastructure and alternative epistemology. He is actively involved with the communities in which he has worked and lived, in particular by developing artistic projects that explore local dynamics and address global issues. He recently received a scholarship from the Social Sciences and Humanities Research Council of Canada.
Yves Charuest
Active since the 1980s, Yves Charuest has played with many Montreal jazz and improvised musicians and groups, including Michel Ratté, Jean Beaudet, Lisle Ellis and more recently with Nicolas Caloia, Lori Freedman, Sam Shalabi and Peter Valsamis. A member of the Peter Kowald Trio from 1985 to 1990 (Germany), he has also played alongside many improvisers on the international scene, including William Parker, Agustí Fernández (Stir, 2017, Tour de Bras), Nate Wooley, Georg Graewe, Roscoe Mitchell (Ride the Wind, 2018, Nessa Records). His solo improvisation work is gaining new momentum (Le territoire de l'anche, 2020, Small Scale Music). He has always devoted most of his creative work to improvisation in various forms: free improvisation, ensembles of improvisers exploring the links with written composition (traditional, graphic, verbal notation, etc.), free jazz, etc.. Whether solo or in collective improvisation, Charuest is known for his singular approach, his sense of development and his attention to the sound properties and formal potential of the materials with which he works.
Fredrik Rasten
Fredrik Rasten is a guitarist and composer based in Oslo and Berlin. He mainly focuses on the musical possibilities of just intonation, as well as related sound phenomena. In his work, he particularly seeks to stimulate a state of active listening to explore the complexities of sound and harmony. As an instrumentalist, he explores tuning changes in real time, vocal colorations as well as different preparations allowing him to obtain fluctuating and warm resonances. As a composer, he mainly creates works for chamber music ensembles whose driving force is the exploration of relationships between pitches. Among his sources of inspiration are the traditions of ancient and folk music as well as reductionist and silent expressions. The idea of ​​music as a non-hierarchical social practice and fundamental philosophical questions such as the elusive relationship between mind and matter also influence his musical practice.
https://fredrikrasten.bandcamp.com/
Image: Iris Terdjiman
A co-presentation with Cinéma Public et Ambiances Magnétiques

This concert was realized with the generous support of the Conseil des arts et des lettres du Québec, the Conseil des arts de Montréal and the SOCAN Foundation. We acknowledge the support of the Canada Council for the Arts.
advance tickets