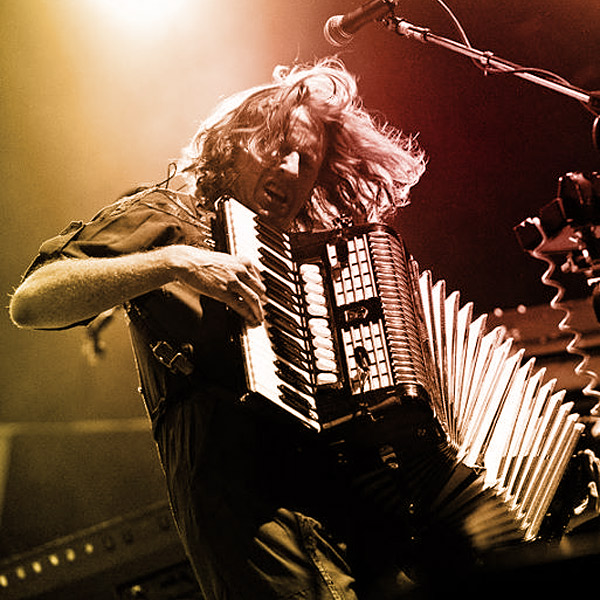 Isak Goldschneider of Innovations en concert talked to Richard Reed Parry, between recording a choir for his new piece DRONES/REVELATIONS (performed by electroacoustic bicyclists in a co-presentation with Pop Montreal and Innovations en concert) and taking off for the playing with Arcade Fire at Austin City Limits Festival.
You've been involved in a dialogue between electroacoustic work, pop work, and so on – how has dialogue this played out over time?
It sort of plays out in getting into the sound of something – I wouldn't call Drones/Revelations electroacoustic music per se. It's plenty tonal and plenty rhythmic at certain bits, which at school always tended to make them say "tut, tut"… and which is ultimately what I found dissatisfying about electroacoustic music. Although there are some things that are amazing that's neither tonal or rhythmic… or for that matter, that are neither electroacoustic or pop.
But I guess there's an approach that's primarily gestural, inhabiting primarily aesthetic spaces, and that's the impetus for the music. It's like you have an idea, an inspiration, as an jumping-off point, and then it goes into aesthetic and gestural spaces. As opposed to being melodically or rhythmically propelled, like in pop music. Although it does contain those elements, I think that, arguably,  in electroacoustic music you don't think of the thing being moved by melody, harmony, rhythm, these things. But I'm fine with these things being what propels music forward.
… There's an art school or art music world, that has a fuzzy frame around it; and then there's new music world, that has a harder frame around it; and then there's band world, which doesn't have such a fuzzy frame around it but has a sensibility that the ends justify the means. You just do as you do and try to find interesting sounds without a specific framework; it's a lot more intuitive than some more academic sides of new music.
What kinds of composition projects are you working on at the moment?
A series, actually; a series of pieces that have been mostly commissioned, except for one. They all use the heart rate and the breath rate of the performer as their rhythmic parameters, and in fact as the entire performance parameter. The musicians are always playing in sync with their heartbeat or breaths. They wear stethoscopes… I wrote a duet initially and was really excited about the results, and then a friend of mine who runs a new music festival in Cincinnati commissioned me to write a piece for the Kronos Quartet. Then I got a commission around the same time to write a piece for the Kitchener-Waterloo Symphony, so I did one with the whole orchestra wearing stethoscopes! This year I wrote another one for YMusic, who are this New-York-based sextet who are amazing; and coming up the next year I'll be writing one for a Quebec cellist named Genevieve Guimond and an ensemble piece for Kaleidoscope, who are a German string ensemble. And then I'm going to write one more solo piece for Bryce Dessner who is from the band The National, and he runs the music festival that's commissioned these pieces. It make sense for me for the last piece in the series to be written for the one who commissioned it, and he's an incredible classical guitarist.
What's interesting to me about the stethoscope pieces is that they're determinate, but totally different every time they're played because of the speed of everybody's heart beats. It has aleatoric elements, and is kind of clustery and falling all over itself, but it's written with enough internal architecture to keep it in the ball park I want it to be in.
Are you using different voices for different audiences?
I don't really know really who the audience is when I write compositions, but generally the audiences who go to new music concerts are there to listen and to experience, and they're not sure exactly what they're going to get. When you go to an Arcade Fire or Bell Orchestre show, you're going to see them do the thing that that band does. It's very different. There's more of an openness outside of Rock Music World. In Rock Music World you gotta do the big rock show, or it's not the big rock show. If I get too much into one world, I miss the other, and vice versa.
– Isak Goldschneider, September 15, 2011, Montreal
attend Richard Reed Parry's concert
at Innovations en concert, Sat, 24 Sept 2011
attend Richard Reed Parry's lecture
at Innovations en concert, Tues, 27 Sept 2011