The Sinking of The Titanic: Gavin Bryars
Composed in 1969 by Gavin Bryars, The Sinking of the Titanic is a performative soundscape recreating reports of a band which played a hymn tune in the final moments of the ship's sinking. The Titanic sank in her maiden voyage on April 15, 1912. 1,517 lives were lost- one of the deadliest disasters in naval history. In Bryars' vision, the band continues to play as the ship sinks to the bottom of the sea, creating a moving tribute to human efforts ultimately conquered by the vastness and complexity of nature. A milestone which sounds as fresh and provocative to day as when it was originally composed, The Sinking of the Titanic will be performed by Innovarumori, the in-house ensemble of Innovations en concert.
INNOVARUMORI:
François Gagné- bass clarinet
Dave Martin- bass trumpet
Felix Del Tredici- bass trombone
Julie Houle- tuba
Isaiah Ceccarelli- percussion
Malcolm Sailor- piano
Vergil Sharkya'- electronica
Jennifer Thiessen, John Corban- violas
Emilie Girard-Charest, Pierre-Alain Bouvrette, Octavie Dostaler-Lalonde, J.C. Lizotte- celli
Joel Kerr- bass
Isak Goldschneider- director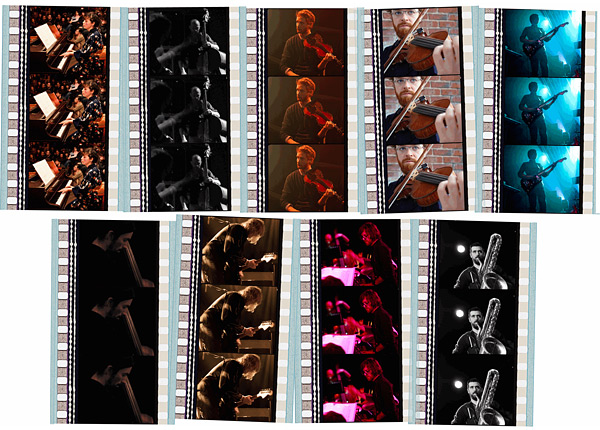 A Reluctant Evil: Werner Herzog and Popol Vuh's Nosferatu the Vampyre
Werner Herzog. Klaus Kinski. Popol Vuh. The incendiary relationship between Herzog and Kinski is the stuff of film mythology and with german Kraut-rock band Popol Vuh's Florian Fricke, the trio produced a string of cult legends in Aguirre, the Wrath of God; Fitzcarraldo; Cobra Verde and 1979's Nosferatu the Vampyre. Kinski always approached his characters with staggering intensity and originality, and in Nosferatu Count Dracula is portrayed almost sympathetically, as one resigned to the reality of being evil incarnate. Popol Vuh's score, and companion recording, is remarkably restrained and minimalistic, full of mantras and haunting melody.
Last year at Suoni per il Popolo, William Hesselink's loyal filmharmonic orchestra submerged themselves in the world of Bernard Herrmann through Hitchcock's Vertigo. This year will be a smaller ensemble, again made of mainstays from Montreal's improv community and will include members of the Besnard Lakes, A Silver Mt. Zion and Land of Kush. It will also reunite Hesselink with People for Audio bandmate Keiko Devaux.