Spotlight on Toronto II : Keys, Wind and Strings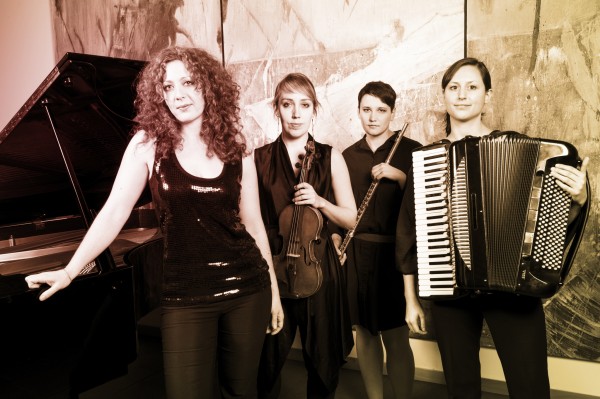 Keys, Wind and Strings (KWS) is a touring concert project of Thin Edge New Music Collective (TENMC) comprised of co-artistic directors, pianist Cheryl Duvall and violinist Ilana Waniuk with guest artists German accordionist Olivia Steimel and flautist/composer/improvisor Solomiya Moroz. Originally conceived in 2012 with the purpose of fostering the creation of new works for this unique ensemble, as well as showcasing 20th/21st century works for unusual pairings within the group, our program features the Montreal premiere of new works by Allison Cameron, Gregory Lee Newsome, Jason Doell, Germaine Liu, and Tobias Schick. Rounding out the program are performances of Marielle Groven's 'What happens in the house…" (2011) for piccolo, accordion and violin and Solomiya Moroz's Continuous City of Leonia II (2015) for solo flute and live electronics with projections by Maxime Boisvert.
—
Described as "One of Toronto hottest and bravest new music collectives" (Michael Vincent – Musical Toronto), Thin Edge New Music Collective was founded in 2011 by co-artistic directors, pianist Cheryl Duvall and violinist Ilana Waniuk. Since its inception, TENMC has grown to include 15 of Canada's most adventurous emerging performers and has been responsible for commissioning over 50 new chamber works by composers from Canada and abroad. In addition to presenting a Toronto based concert series, TENMC has performed on concert stages across Canada as well as participated in residencies at the Banff Centre, Avaloch Farm Music Institute New Music Initiative, and Le Pantographe in Moutier, Switzerland. Keys, Wind and Strings, a touring concert project of TENMC, has toured across Canada with generous support from the Canada Council for the Arts and the Shevchenko Foundation including performances at the University of Calgary's Happening Festival of Music and Media, and was featured as ensemble in residence at the SoundSCAPE festival of new music in Maccagno, Italy in July 2013.
Solomiya Moroz is a Canadian artist based in the UK, pursuing a PhD in music composition at the University of Huddersfield. Moroz is interested in the hybrid forms of sound in mixed, electronic and instrumental music. Her work tends to progress towards the expansion of the music medium towards cross-disciplinary and interdisciplinary media, while expanding the role of the musicians and artists within them. Solomiya collaborates often with instrumental and electronic musicians, dancers and video artists.
Olivia Steimel is a versatile German accordionist. Dedicated to contemporary music, she has collaborated with many composers, premiering and performing their works at international festivals (Darmstädter Ferienkurse für Neue Musik, ECLAT Stuttgart, ZeitGenuss Karlsruhe, SoundSCAPE Maccagno, Swiss Chamber Music Circle Andermatt, Happening Festival Calgary etc.), in radio broadcasts (in Canada, Portugal, Serbia, Germany, Switzerland and Slovenia), and on CD recordings. As a soloist she has performed with Kammerorchester Basel and as a guest with orchestras such as Würzburg Philharmonic, Ensemble Phoenix Basel, Junge Deutsche Philharmonie and the International Ensemble Modern Academy. In 2012 and 2013 she was artist-in-residence at the Banff Centre in Canada. Olivia is also a member of the chamber groups Duo Steimel-Mücksch and Trio SÆITENWIND.
We acknowledge the support of the Canada Council for the Arts, which last year invested $153 million to bring the arts to Canadians throughout the country.