Stephane Ginsburgh :: Speaking Pianist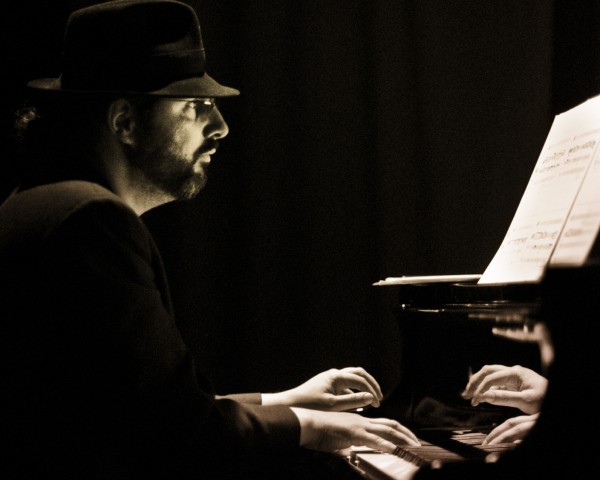 The Brussels-based pianist Stephane Ginsburgh has been praised for his daring and mature artistry. He appears regularly in recitals and chamber music worldwide. He performed at numerous festivals such as Ars Musica, Quincena Musical, ZKM Imatronic, Agora, Bach Academie Brugge or Darmstadt Internationale Ferienkurse, with future performances planned at Ultima Oslo and Alterminimalismes (Paris). A tireless surveyor of the repertoire but also exploring new combinations including voice, percussion, performance or electronics, he dedicates much of his energy to contemporary music that he plays as well as the Classical repertoire.
He has collaborated with many composers of whom he also premiered works. He regularly plays with the Ictus Ensemble under George-Elie Octors. He collaborated with choreographers such as Johanne Saunier (Joji Inc.), Anne Tersa De Keersmaeker (Rosas), Claudio Bernardo (As Palavras), Barbara Mavro (Roberta DC) and visual artists Peter Dowsnbrough and Kurt Ralske. Stephane Ginsburgh recorded numerous CDs for Sub Rosa label (Feldman, Duchamp, Satie, Fafchamps), as well as the world premiere recording of two pieces by David Toub for World Edition. His Prokofiev complete piano sonatas are released by Cypres Records.
"A speaking pianist, a narrator who plays the piano…Let's create an ambiguous situation by switching and mixing roles. Music and text are no longer superimposed ; they get entangled, in order to blend more intimately. Things are brought to another level; gestures, looks, sounds, words…the most unexpected, complex, fanciful situations. Paradoxically, blending the piano with voice, electronics, gestures is to come closer to it – bringing things to the piano gives an opportunity to take into consideration its remoteness, and to highlight it. In this connection with the voice, a the personal dimension is added, specific to the performer. By speaking while playing, he expresses himself, and his way of talking can only be his own, unique. Isn't it by making a work's voice its own that one can better share and carry it ? A work that is being carried, like a voice : that's exactly what's at stake." – Stephane Ginsburgh
Programme:
André Ristic: Feynman speech sonata*
Alec Hall: A Dog is a Machine for Loving* (With the financial support of the Canadian Council for the Arts)
Jean-Luc Fafchamps: Rap & Tap (commission of the Midis-Minimes Festival for Stephane Ginsburgh)
François Sarhan: Ô Piano (2016 version for Stephane Ginsburgh)
Keith Kusterer: Surreal Trivia
Frederic Rzewski: Dear Diary (commissioned by Ars Musica Festival Wallonia-Brussels Federation for Stephane Ginsburgh)
Frederic Rzewski: De Profundis (Commissioned by Centre Européen pour la Recherche Musicale. Based on a text by Oscar Wilde)
*World premiere
Concert given with the support of Wallonie-Bruxelles International (WBI)
We acknowledge the support of the Canada Council for the Arts, which last year invested $153 million to bring the arts to Canadians throughout the country.