Piano Animals I : Brigitte Poulin et Jean Marchand présentent Réflexions américaines

Co-presented with Chapelle historique du bon-Pasteur.

In their programme  American Reflections, Brigitte Poulin and Jean Marchand explore the eclectic musical imagination of the USA : from the polytonal approach of Charles Ives to the mysterious resonances of Morton Feldman and the contagious exuberance of Steve Reich and John Adams. With music from such diverse inspirations as Presbyterian hymns, African-American culture, traditional songs, jazz, cinema and literature, American Reflections will take you on a sonic voyage powered by non-stop rhythmic tension – in the image of a country and its history. 
Program
Morton Feldman – Work for 2 pianists (1958) for two pianos
David Lang – Orpheus over and under (1989) for two pianos
Morton Feldman – Vertical Thoughts 1 (1963) for two pianos
Salvatore Martinaro – Cocktail Music (1962) for solo piano
Igor Stravinsky – Tango (1940) for two pianos
Morton Feldman – Two Pieces for Two Pianos (1954) for two pianos
Charles Ives – "The Alcotts" (excerpt from the Concord Sonata) (1909/15) for solo piano
John Adams – Hallelujah Junction (2002) for two pianos
Morton Feldman – Two Pianos (1957) for two pianos
Brigitte Poulin et Jean Marchand, piano duo
Montreal pianists Jean Marchand and Brigitte Poulin have been faithful friends and collaborators for twenty years, listening to each other as soloists, chamber musicians and coaches. In 2010, they performed their first duo reccital, dedicated to Brahm and Schumann. Since then, their programmes have led audiences into different universes ; from Schumann – « où le brio dispute au charme du beau phrasé » – through impressionists and expressionists, to contemporary repertoire where one partner becomes the burred reflection of the other, and where a Doppelgänger alters its mirror image. 
"There was a beautiful partnership and impeccable coordination between these two musicians." –Benoit Bergeron, RReverb
"The two pianists executed their programme with remarkable concentration and ease." Michel Gonneville – cette ville étrange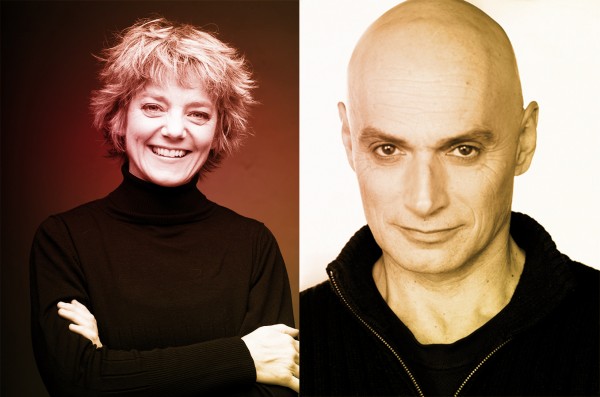 Special thank you to Yamaha for their generous sponsorship.