A co-presentation with Ensemble Phth and Beth Frey
Projections every hour on the hour :: Installation and performances all night
Free entrance with advance ticket.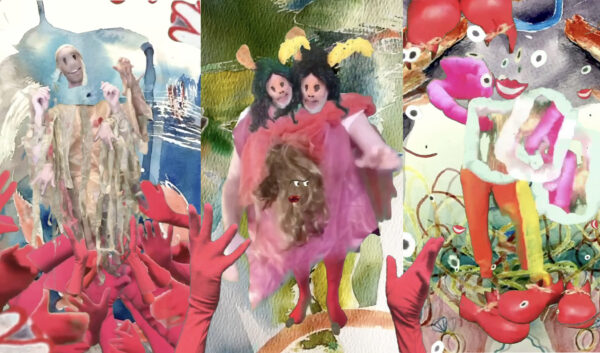 This joyous event presents the fruit of a collaboration between visual artist Beth Frey and vocal ensemble Phth, including an audio-visual installation and short vocal performances.
The 12 micro-videos that make up the video installation feature strange and mysterious characters, inhabiting shapeless, noisy and chromatic worlds. These morphologically ambiguous beings, embodied by the members of Phth ensemble, seem suspended between pleasure and anxiety, the precious and the grotesque. The blurred contours of these bodies mark the dissolution of the boundaries, both physical and social, that constitute the "self", whereas the vocalizations welcome both the organic beauty and ugliness of sound, expanding the sonic palette of the "reasonable human".
An interactive component will shed light on the technologies used by Beth, which are mostly designed for social media. After several rounds of work on different platforms, the result surpasses expectations and offers a critical look at the social media culture that paradoxically enabled the production of the work.
This concert was realized with the generous support of the Conseil des arts et des lettres du Québec, the Conseil des arts de Montréal and the SOCAN Foundation. We acknowledge the support of the Canada Council for the Arts.
Entry to the venue will only be allowed on presentation of a vaccination passport.
advance tickets
Facebook Event