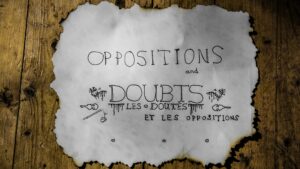 OPPOSITIONS AND DOUBTS ::
DOUBLE PROGRAMME – INNOVATIONS EN CONCERT SEASON LAUNCH 2022-2023
+ NO HAY BANDA PRESENTS : DOUBTS BY JAMES O'CALLAGHAN
Innovations en concert's 28th season launch – a celebration of new beginnings, and hopes for a post-pandemic scene! We're partnering with our friends at NO HAY BANDA to bring some terrific new works, as well as samples from our season to come.
Alexandra Fol's Opposing the Motion is a setting of former Australian Prime Minister Julia Gillard's famous Misogyny Speech of October 9, 2012. Inspired by the speech, she contacted the Hon. Gillard's office asking for permission to set her speech to music and received an almost immediate reply! Issues of marginalization, women in power, and women in traditionally male-dominated occupations are beginning to be explored more and more. Fol's settings of the Hon. Gillard's text highlight a female point of view of a typically female problem of handling power. This world premiere will be performed by mezzo-soprano Claudine Ledoux, saxophonist Louis-Philippe Bonin and cellist Viviane Gosselin under the composer's direction.
The work is part of a new album to be presented by Innovations en concert's new Bandcamp platform, which is also launching this evening!
We will also hear the acousmatic work People of the Sea by Louise Campbell, works by Linda Catlin Smith and excerpts from Mirko Sablich's uno performed by pianists Isak Goldschneider and Pamela Reimer, and the adventurous new duo of soprano Sarah Albu and Matti Pulkki.
We'll say farewell to James O'Callaghan, who is moving to Berlin! We have the great opportunity to hear his "Doubts" cycle in its entirety, including a world premiere. Collected together here for the first time in concert, this series of four works for soloists and ghostly doubles of their instruments activated through tactile transducers will be performed by :
Jeffrey Stonehouse (Montréal) – Doubt is a way of knowing (2017), for flute and electronics
Geneviève Liboiron (Montréal) – Doubt is a body (2018), for violin and electronics
Ryan Scott (Toronto) – Doubt is a distance (2018), for amplified snare drum and octophonic speaker-snare array
Adam Scime (Toronto) – Doubt is a way of moving forward (2020), for double bass and electronics
This event is made possible thanks to the support of the Canada Council for the Arts.
We would like to thank the Conseil des arts et des lettres du Québec, the Conseil des arts de Montréal and the SOCAN Foundation for their support.
*****
The Sala Rossa is located on the second floor (there are 38 steps total). There are gender neutral washrooms which are not wheelchair accessible. We have a Hearing Assistance System on the FM dial at 101.1 FM. Anyone needing assistance accessing our space can contact us as we are more than happy to try and accommodate people to the best of our ability.
*****
We would like to acknowledge that the land on which we operate is the traditional and unceded territory of the Kanien'keha:ka (Mohawk). Tiohtiá:ke / Montreal is historically known as a gathering place for many First Nations. Today it is home to a diverse population of Indigenous and other peoples.
advance tickets
Facebook Event