POSTPONED- Émilie Girard-Charest :: Intimités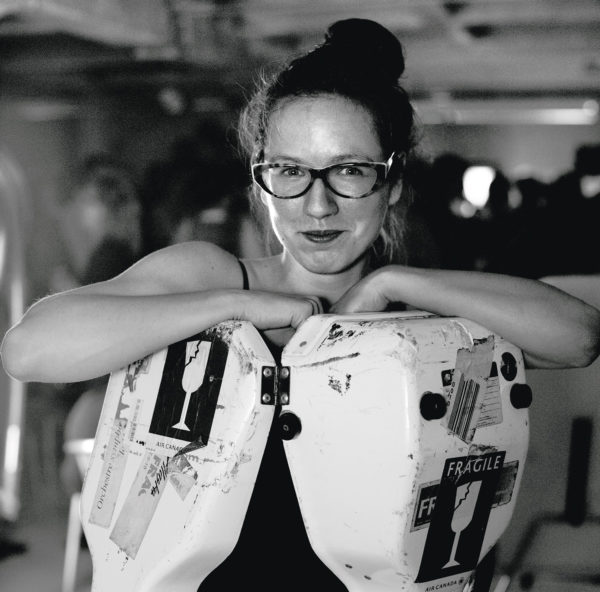 Dear all,
Due to the emergency regulations now in effect, we must regretfully postpone this concert until further notice. Please watch this space for further updates, and stay safe!
Co-presented with NO HAY BANDA
We are excited to present a concert devoted to the music of Émilie Girard-Charest, cellist, composer, and one of Montreal's most engaging new voices in creative music!
Musicien(ne)s :
Lyne Allard (violin), Daniel Añez (piano), Noam Bierstone (percussion), Geneviève Liboiron (violin), Jean René (viola)
Novarumori (dir. Isak Goldschneider) // Viviana Gosselin, Vera Ronkos, Emma Schmiedecke, Andrea Stewart (cello) // Nicolas Caloia, Stéphane Diamantakiou, Martin Heslop, Pierre-Alexandre Maranda (double basses)
Programme :
Asyndètes (2017) for string quartet
Épanchements (2014) for violin, cello and piano
Heurts (2019) for violin, cello, piano and percussion
Intimités (2018) for four cellos and four double basses
Asyndètes was premiered in 2017 by the Molinari Quartet as part of a concert dedicated to the winners of the Prix d'Europe de composition. For this new interpretation the composer has invited violinists Lyne Allard and Geneviève Liboiron, as well as the violist Jean René, to join her.
In this quartet, Émilie Girard-Charest addresses the issue of fracture as an energy catalyst. By constantly interrupting discourse, by cutting off flow of movement, she is able to imagine different strategies making it possible to channel explosions of energy, playing between moments where impacts generate a transformation of energetic flow and moments where contrasts and divisions lead to stasis –  between shocks which modify and shocks which divide.
Épanchements is first and foremost a work based on silence which aims to highlight the lyricism of noise. By drastically limiting the amount of sound information, it allows us to pay attention to details that would otherwise escape us: from the bow sounds to the room's ambient noises, all these sonic artifacts are an integral part of the work, and differ with each performance, thus inviting the audience to change their listening perspective.
Heurts is a work related to Asyndètes, in which the composer continues her exploration of the notion of rupture – in the moment when momentum breaks, a victim of itself or of external elements. The piece is a series of failed attempts to channel an energy that escapes us, expressed in undomesticated, raw and joyful tones.
Intimités – the work from which the concert takes its name- was premiered by Novarumori under the direction of Isak Goldschneider in 2018 as part of Innovations en concert's season.
The title is inspired by the work's opening, in which four double bassists, rather than playing their instrument, act as assistants for the cellists, changing their instruments' intonation using fine tuners  while they play. This situation creates a special interdependent relationship between the performers. Each cello being controlled by two people at the same time, gestures made by one performer have a considerable impact on the work of the other – and each must be extremely attentive to the other's slightest movement to create this communal sound. Émilie Girard-Charest invites performers and listeners to a highly intimate chamber music experience –  a common dive into sonic immersion.
—
Photo credit : Dom Garcia
This concert was realized with the generous support of the SOCAN Foundation.
We acknowledge the support of the Canada Council for the Arts, which last year invested $153 million to bring the arts to Canadians throughout the country.