Émilie Girard-Charest :: Intimités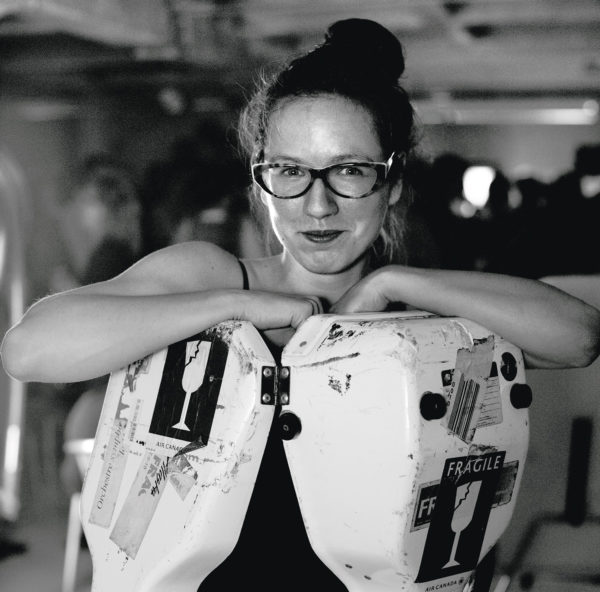 Co-presented with NO HAY BANDA
We are excited to present a concert devoted to the music of Émilie Girard-Charest, cellist, composer, and one of Montreal's most engaging new voices in creative music! As a special addition to the program, you can also hear a piece by Fredrik Rasten, a Norwegian composer based in Berlin and specializing in "Just Intonation". The four works on the program will be captured by videographers Andrés Salas (Girard-Charest) and Farid Kassouf (Rasten). Buy tickets for the online concert here.
Musicien(ne)s :
Lyne Allard (violin), Daniel Añez (piano), Noam Bierstone (percussion), Geneviève Liboiron (violin), Jean René (viola)
Programme :
Fredrik Rasten – View (2019) for cello
Émilie Girard-Charest – Asyndètes (2017) for string quartet
Émilie Girard-Charest – Épanchements (2014) for violin, cello and piano
Émilie Girard-Charest – Heurts (2019) for violin, cello, piano and percussion
View is a cello piece in just intonation written for cellist Émilie Girard-Charest in 2019. The performer uses a curved bow (Bach-Bogen) to produce dyads and triads, melodies and counterpoints. The high string of the cello is lowered to obtain a neutral third (in an 11: 9 ratio) with the neighbouring string. This neutral third acts as a recurring pivot point from which the music forks towards denser harmonic fields.
The piece was composed using a four-string fretless guitar played with a violin bow to reproduce the peculiarities of the cello and can also be performed with this setup. It is part of a larger project in which the composer is seeking to expand the possibilities of the guitar by integrating sustained sounds into his technical repertoire in order to achieve specific results with intonation.
Asyndètes was premiered in 2017 by the Molinari Quartet as part of a concert dedicated to the winners of the Prix d'Europe de composition. For this new interpretation the composer has invited violinists Lyne Allard and Geneviève Liboiron, as well as the violist Jean René, to join her.
In this quartet, Émilie Girard-Charest addresses the issue of fracture as an energy catalyst. By constantly interrupting discourse, by cutting off flow of movement, she is able to imagine different strategies making it possible to channel explosions of energy, playing between moments where impacts generate a transformation of energetic flow and moments where contrasts and divisions lead to stasis –  between shocks which modify and shocks which divide.
Épanchements is first and foremost a work based on silence which aims to highlight the lyricism of noise. By drastically limiting the amount of sound information, it allows us to pay attention to details that would otherwise escape us: from the bow sounds to the room's ambient noises, all these sonic artifacts are an integral part of the work, and differ with each performance, thus inviting the audience to change their listening perspective.
Heurts is a work related to Asyndètes, in which the composer continues her exploration of the notion of rupture – in the moment when momentum breaks, a victim of itself or of external elements. The piece is a series of failed attempts to channel an energy that escapes us, expressed in undomesticated, raw and joyful tones.
—
Photo credit : Dom Garcia
—
This concert was realized with the generous support of the Conseil des arts et des lettres du Québec, the Conseil des arts de Montréal and the SOCAN Foundation. We acknowledge the support of the Canada Council for the Arts.