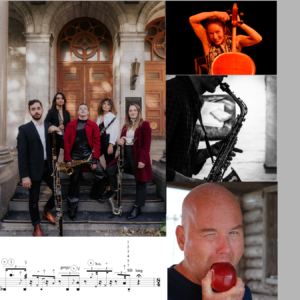 It is with great pleasure that Innovations in Concert invites you to the inaugural concert of Quebec's first-ever reed quintet!
5ilience is a new chamber music ensemble based in Montreal, composed of five emerging artists with a passion for chamber music. Aimed at communities who seek new discoveries, their events create unforgettable experiences through their innovative programming, the quality of their collaborations and the freshness, detail and precision of their playing.
Composed of oboe, clarinet, saxophone, bass clarinet and bassoon, played respectively by Léanne Teran-Paul, Marianne Pellerin, Thomas Gauthier-Lang, Gwénaëlle Ratouit and Maxime Hargous, their inaugural program, entitled Si je pouvais m'ancrer (If I Could Anchor Myself), will give you the chance to hear works that pull them to the right, to the left, that leave them in suspense, and that propel them forward at full speed.
Saxophonist Thomas Gauthier-Lang, artistic director of this first concert, has built a program around the same theme: our relationship to time. The program includes three Quebec premieres as well as two creations by composers Simon Bourget and Romain Camiolo:
CAMIOLO, Romain (France) /// À la dérive dans le noosphère (2022)*

ÖZTEKIN, Uğurcan (Turquie) /// Conference of the birds (2019)†

VERDUIN, Janco (Pays-Bas) /// Wall paint, paper, and cardboard on panel (2016)†

BOURGET, Simon (Canada) /// Les danses galactiques (2022)*

BIEDENBENDER, David (États-Unis) /// Refraction (2012)†
*Création
†Première québécoise
We would like to thank the Canada Council for the Arts, the Conseil des arts et des lettres du Québec, the Conseil des arts de Montréal and the SOCAN Foundation for their support.
advance tickets
Facebook Event