Guided by Voices :: Conseil des arts de Montréal en tournée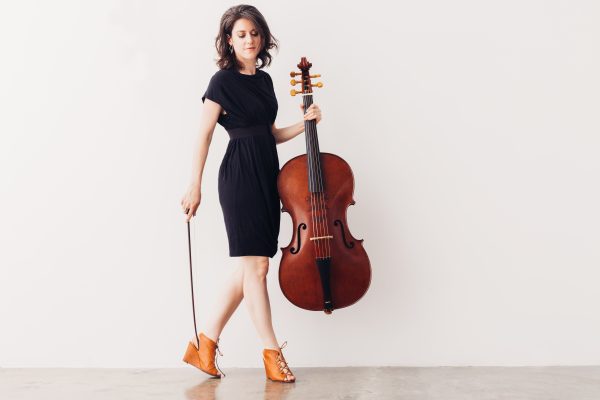 New Music for Baroque cello
Elinor Frey, cello & 5-string cello 
Mélisande McNabney, harpsichord 
Innovations en concert is delighted to present Guided by Voices in the framework of the Conseil des arts de Montréal's touring programme. Two Baroque instruments are used in this project, the four-string and five-string cello, each with a sound and character which strongly contrast with the modern cello – and which have inspired some of today's outstanding composers to explore their unique qualities.
The concert will feature works by Scott Edward Godin,  Linda Catlin Smith, Isaiah Ceccarelli, and Maxime McKinley. Works from the Baroque era and by Swedish-German composer Lisa Streich complete the programme.
When composers write new pieces for "Baroque" cello it becomes an instrument of today, not only past eras, helping to expand the sound worlds of both the cello and new music audiences. Each work reveals the cello's incredible versatility and remarkable colours.
We can't wait to welcome you to this exploration of the "celloverse"!
About Elinor Frey :
Fascinated by the cello's origins and the creative process of new music, Elinor Frey plays both period and modern instruments. Her recent release on the Belgian label Passacaille, Berlin Sonatas with Lorenzo Ghielmi on fortepiano, was nominated for a Juno award for Best Classical CD, Solo & Chamber Music and won the 2015 Québec Opus Prize for Early Music CD of the year. Her first Baroque CD, La voce del violoncello, was praised for its "careful scholarship and brilliant layering of moods and tempos" (Toronto Star) and for the "honest, reflective beauty of her music making" (Strings). Her performance of this program was the winner of the public prize at the 2013 Utrecht Early Music Festival Fringe. In Summer 2017, she released Fiorè, the world premiere recording of the sonatas of Angelo Maria Fiorè and various unknown Italian arias the, performed alongside Lorenzo Ghielmi and Suzie LeBlanc. 
Frey's debut album, Dialoghi, is titled for the solo piece written for her by Steven Stucky, and her CD of new works for Baroque cello, titled Guided By Voices, will be released on the Analekta label in March 2019. These works are by Scott Godin, Linda Catlin Smith, Ken Ueno, Isaiah Ceccarelli, Maxime McKinley, and Lisa Streich. She also recently performed Lutoslawski's cello concerto and a new concerto by Colin Labadie with the Laurier Symphony, as well as a concerto for five-string cello by Keiko Devaux with Ensemble Arkea and conductor Dina Gilbert.
Frey's honours include a US-Italy Fulbright Fellowship where she studied baroque cello with Paolo Beschi, the SSHRC Canada Graduate Scholarship, American Musicological Society, and Canada Council for the Arts grants facilitating her work on Italian cello music. In recent seasons she has performed with Il Gardellino, Constantinople, Clavecin en concert, Ensemble Caprice, Les Idées heureuses, Arion, Les Boréades, and Theatre of Early Music, as well as with her quartet, Pallade Musica, grand prize winners of the 2012 Early Music America Baroque Performance Competition and second prize winners in the 2014 International Van Wassenaer Competition in Utrecht. Frey holds degrees from McGill, Mannes, and Juilliard.
Présenté dans le cadre de la tournée du Conseil des arts de Montréal
The presentation of a vaccination passport and a photo ID will be required (for 13 years and over).
Photo credit : Elizabeth Delage
—
This concert was realized with the generous support of the Conseil des arts et des lettres du Québec, the Conseil des arts de Montréal and the SOCAN Foundation. We acknowledge the support of the Canada Council for the Arts.