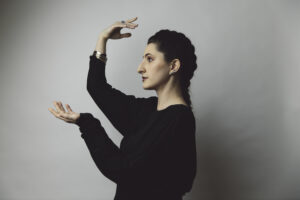 Diva is a long-form composition for jazz orchestra that is a celebration of and an offering to the divine feminine. The piece was first commissioned by Innovations en concert, and received Montreal Arts Council's 2019 Jazz Creation Prize.
Originally conceived as a piece resisting the notion of jazz being a "macho" music, the composer, Liberté Anne, sought out methods and elements to express what she interprets as supremely feminine within so-called jazz. Group improvisation, harmony and timbre, and rhythmic structure are identified and utilized to express the notions of creation, inclusivity and relationship. Loosely imagined from the phrase matrizes Africanas (Letieres Leite), Liberté Anne was inspired to define the clave, in a metaphysical sense, as the most feminine musical expression. In the composer's words:
"The clave is a matrix, a womb. All elements are born from the clave, and from it derive and cultivate individuality while maintaining interconnectivity. The clave can still embrace differing modes of expression, and is thus of supreme inclusive and relational intelligence. I would like to express my gratitude to my teachers for sharing the wisdom of African and Afro-descendant musics over the last 8 years: Chief Baba Neil Clarke in the US, and Irian Lopez in Cuba, and Zab Maboungou here in Canada."
Liberté Anne is a composer, pianist and bandleader from Montreal. Her artistic process focuses on a holistic vision of music, considering the traditions, the environment, the physics, the movement, and the spirituality of the sounds with which she is engaging in the moment. Her work principally informed by jazz music, Liberté Anne poses a particular attention to improvisation and rhythmic structures from the African diaspora, along with the concepts and philosophies that surround these practices.
Liberté Anne began her career in 2013 in New York City, founding her orchestra the "Liberté Big Band" to perform her original works. She received mentorship from composer and pianist Arturo O'Farrill who first encouraged her to pursue a composing and bandleading path. It is through her studies with percussionist Chief Baba Neil Clarke that she began engaging more seriously with Pan-African percussion ensemble concepts and a holistic vision of art.
In 2017, she rebuilt the Liberté Big Band in Montreal and pursued various self-produced performances and collaborations across styles and formations. The Liberté Big Band held a year-long residency at Café Résonance, publicly rehearsing and developing its repertoire and rapport. Between 2017 and 2019, she travelled extensively to Cuba to research and study under Irian Lopez, focusing on Batà drumming.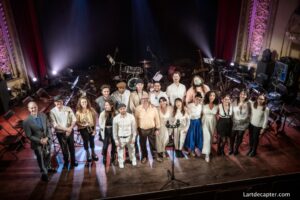 The Liberté Big Band:
Liberté-Anne: composition, voice
Maya Kuroki, Sarah MK: voice
Shakoor Hakeem, Isabelle Delaney: percussion
Benjamin Singer: drums
Stéphane Krims: bass
Christopher Edmondson: alto and soprano sax
Geneviève Gauthier: alto sax and flute
René Zeledon: tenor sax and flute
Elyze Venne-Deshaies: tenor sax and clarinet
Melissa Pipe: bariton sax, bass clarinet and bassoon
Craig Pedersen, Bill Mahar, Émilie Fortin: trumpet
Étienne Lebel, Édouard Touchette, Marie-Ange Boislard: trombone
Isak Goldschneider: conductor
Recording by Preston Beebe and Ofer Pelz
A co-presentation with Festival Suoni per il popolo
This concert was realized with the generous support of the Conseil des arts et des lettres du Québec, the Conseil des arts de Montréal and the SOCAN Foundation. We acknowledge the support of the Canada Council for the Arts.