Le choeur électronique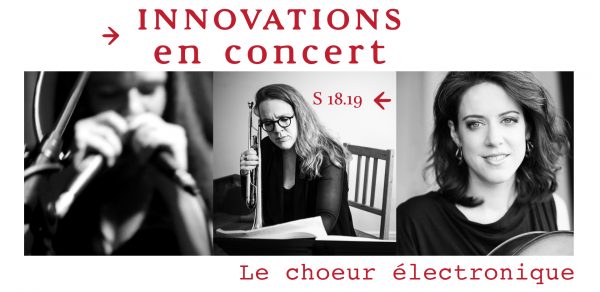 Co-presented with Groupe Le Vivier
In this double programme, trumpeter Amy Horvey will perform works by composers Barbara Strozzi and Liza Lim side by side with works by composer Andrea Young performed by her Choeur electronique. Inspired by music and thought from the fifteenth and sixteenth centuries, this music illuminates and reinterprets both ancient and modern sound worlds. Join us for an evening of rich sonic landscapes, lyricism and virtuosity in the unforgettable ambiance of the Eglise du Gésù! We'll also welcome a special guest for the evening: Baroque cellist Elinor Frey, who will present a new work commissioned from the Swedish composer Lisa Streich.
Program:
Barbara Strozzi (1619-1677): Sino alla morte (Amy Horvey, trumpet / Madeleine Owen, lute) 
Lisa Streich: Minerva (2018) (invité spécial- Elinor Frey, Baroque cello) 
Liza Lim: Wild Winged-One (2007) (Amy Horvey, trumpet) 
Andrea Young: The Voice Index (2015) (Choeur Électronique)
Amy Horvey is inspired to wear many hats as a 21st century trumpet player. She is active as a creator/interpreter of new and experimental music, as a performer of modern orchestral music, and as a researcher of the baroque trumpet. A champion of Canadian contemporary music, she has performed with Nouvel Ensemble Moderne and Arraymusic and has commissioned works by Nicole Lizee, Cassandra Miller, and Christopher Butterfield, among many others. She has recorded three albums – Interview, Catchment, and Mille Bayous. As guest director of the Montreal ensemble Novarumori she led Still Listening : a Tribute to Pauline Oliveros at the 2017 Suoni per Popolo Festival. Her solo projects have been featured in festivals across Canada, and in the Netherlands, Lithuania, Italy, and the US.
Andrea Young is a composer and performer who performs an acoustic, amplified, processed and resynthesized voice, as well as a re-purposed sound-controlling voice enabled through feature extraction and data-driven live electronics. While her work relies on digital innovation, her musical output relies on the integration of her digital interface with analogue and re-purposed electronic media. 
The Choeur Électronique is a vocal ensemble dedicated to progressive technologies in voice and digital arts directed by Andrea Young. By incorporating electroacoustic techniques techniques with more traditional concepts of choral composition, they create music which ranges from complex, architectural sound-forms and minimalist and medieval sonorities to abstract song forms and massive walls of noise.
This concert was realized with the generous support of the SOCAN Foundation.
We acknowledge the support of the Canada Council for the Arts, which last year invested $153 million to bring the arts to Canadians throughout the country.