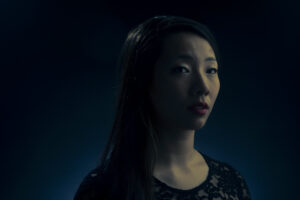 « Il fait complètement noir. Mes sens sont engourdis.
Aux frontières de mon champ de vision,
une lueur fuit mon regard.
Si je tourne la tête assez rapidement, j'arrive à l'apercevoir.
Elle se transforme à chaque fois que
je suis sur le point de la comprendre. »
To celebrate the launch of her debut album "Almost Touching" (people | places | records), Montreal-based guitarist An Laurence will present an eclectic show combining instrumental and electronic music, poetry, songs and performance art. The concert's programme includes fragments or arrangements of pieces from the album, as well as brand-new creations.
Inspired by the café-concert format, An Laurence invites on stage composer-performer and theater-maker Elischa Kaminer (Frankfurt/London), and composer-performer and drag artist Kim Farris-Manning (Ottawa) for trio, duo and solo performances. Kim, as King of Chorophyll, will present a new drag number, and Elischa will perform a voice and piano performance. The Paramorph Collective, An Laurence and Kim's experimental music and multimedia arts project, will also present their own new works.
The album "Almost Touching" brings together pieces for guitar, voice and electronics from contemporary composers all addressing in their own ways desire, the pursuit of an emotion, an unknown eluding our senses, escaping us in perpetually morphing. Inspired by insomnia, dreams and desires, memories decay, the impossibility to reconcile different parts of the self, or by the nebulous quest for a feeling of belonging, the pieces meticulously assembled and commissioned by An Laurence form an album that is both dreamlike and destabilizing. The pieces from the album were composed by Amy Brandon, Kim Farris-Manning, Elischa Kaminer, Shelley Marwood and Arthur Keegan-Bole.
PROGRAMME
« et tu respires encore », in Chants d'amour (Elischa K.), arr. for three voices
« Artificial Light », (Amy Brandon), classical guitar and electronics
« Tumbalalaïka », in Chants d'amour (Elischa K.), arr. voice and guitar
« Reconciling Duality », (Shelley Marwood), classical guitar
« Chant d'amour », in Chants d'amour (Elischa K.), arr. performance
INTERMISSION
« King Chlorophyll », (Kim F.-M.), drag number + electric guitar
TBA, Elischa solo
« All we're made of is borrowed (etc.) », Paramorph Collective
AN LAURENCE 安媛
Montreal-based guitarist An Laurence 安媛 is active on the contemporary classical and experimental music scene as a performer, composer and multimedia artist. She performers, creates and records solo and ensemble works in Canada and internationally.
An Laurence's music style ranges from classical contemporary to electronics music, to vocal and theatric works. Her most recent projects include the recording of the one-hour long instrumental and narrative piece "Chants d'amour" commissioned to and created in collaboration with Elischa Kaminer, and the creation of the experimental video-opera " 'til death do us" for Lucky Penny Opera/re:Naissance Opera as the Paramorph Collective. In 2019, An Laurence has been an independant producer and artistic director for "Émergences (f.pl.)", a project for which she commissioned and performed, alongside Sara Constant, five new pieces for guitar, flute and multimedia to emerging composers from Montreal and Toronto.
In parallel to her music practice, she also pursues a practice in multimedia and performance arts. Her creations have been presented by festivals and galleries (Festival Accès Asie, co·iki Japan, Flourish Fest, Chinatown Biennial, MUP), and she has been awarded creation residencies by Oboro and Vidéographe.
IG: an_laurence_
KIM FARRIS-MANNING
A fun-loving queer arbor-artist based in Ottawa and Montreal, Kim Farris-Manning creates works across disciplines that engage with the performer and audience in unique ways. Allowing ideas to grow and change is a central facet of Kim's work; pieces are often made in versions, through a process of experimentation and collaboration with others. Kim's work has been experienced in performances worldwide led by organizations such as the Canadian Music Centre, MaerzMusik, Ostrava Days Festival, Continuum Contemporary Music, Quatuor Bozzini, and Organ Festival Canada. Kim is part of folk-indie duo YELLOW, and is a founding member of the Paramorph Collective.
IG: king_of_chlorophyll
ELISCHA KAMINER
Elischa Kaminer is a composer, performer and theatre maker working in the intersections of music theatre, sound art, electronic, concert, queer-pop and yiddish musics. Recent works for soloists like Mayah Kadish, Joseph Havlat, Alex Paxton, Sara Cubarsi and An-Laurence Higgins take on the form of continuously evolving musical and choreographic score, molded into and out of the specific performers' very own artistry, humor, physicality and musicality. Since 2021 Elischa Kaminer is Associate Composer with UK based record label and events producer NONCLASSICAL. 
His work for the concert hall, exhibition spaces, film and theater is often informed by both a playful approach as well as a critical reflection of the structural importance (or non-importance) of both musical and non-musical parameters involved in a live-performance setting. These may include thoughts on the interrelation of sound,  choreography and scenography, as well as taking into account political and economic implications (and conditions) of the production and rehearsal process.
IG: whothefismoses
Photo: Carlos Riobo
This concert was realized with the generous support of the Conseil des arts et des lettres du Québec, the Conseil des arts de Montréal and the SOCAN Foundation. We acknowledge the support of the Canada Council for the Arts.