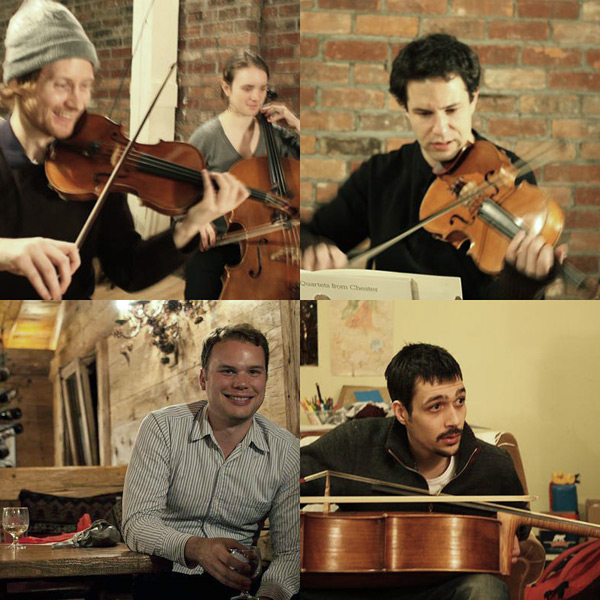 Warhol Dervish
A co-presentation with Warhol Dervish and The Youjsh

Warhol Dervish is an unorthodox chamber music collective gathering together some of the most interesting and creative musicians in Canada. In this concert, they explore the flowering of a new wave of young New York-based composers and performers who produce, write, and perform music with each other, connecting genres and creating new ones in the process.
Nico Muhly, a contemporary composer of international profile (and indie credibility), belongs to this group of composers. Although his works have been played by world-renowned ensembles such as the New York Philharmonic and the Chicago Symphony, his opera Two Boys was performed by the English National Opera, and he has worked as an arranger with pop artists as diverse as Björk and Antony and the Johnsons, performances of Muhly's works have been rare in Montreal up to now.
Also included on the program are works by Missy Mazzoli, an up-and-coming young composer whose works have been performed by the Minnesota Orchestra, eight blackbird and the Kronos Quartet. According to the New York Times, she is one of "the more consistently inventive and surprising composers now working in New York."
One Montreal composer will be also featured on this programme: Richard Reed Parry, the bassist of Arcade Fire. Warhol Dervish will perform his "Quartet for Heart and Breath", a piece in which the musicians monitor their own heartbeat and breath rate, using stethoscopes to control the tempo of the music.
John Corban, violin
Alex Read, violin
Pemi Paull, viola
Jean-Christophe Lizotte, cello
The Youjsh
Following Warhol Dervish's performance, the Montreal-based klezmer/fusion ensemble The Youjsh (back by popular demand from the Innovations en concert September Series) will entertain listeners with their high-energy set. In the words of Jesse Locke of Texture Magazine: "in terms of pure pleasure, it's hard to beat the heart-racing klezmer jazz of The Youjsh."
Malcolm Sailor, piano and compositions
Isak Goldschneider, clarinet
Adam Kinner, saxophone
Ryan Frizzell, trumpet
Kathryn Palumbo, bass
Philip Melanson, drums
"… cinq musiciens incroyablement talentueux et énergiques. Leur musique était super agréable, tantôt festive tantôt mélancolique, toujours déchainée."
— Julie Bergeron, montrealexpress.ca