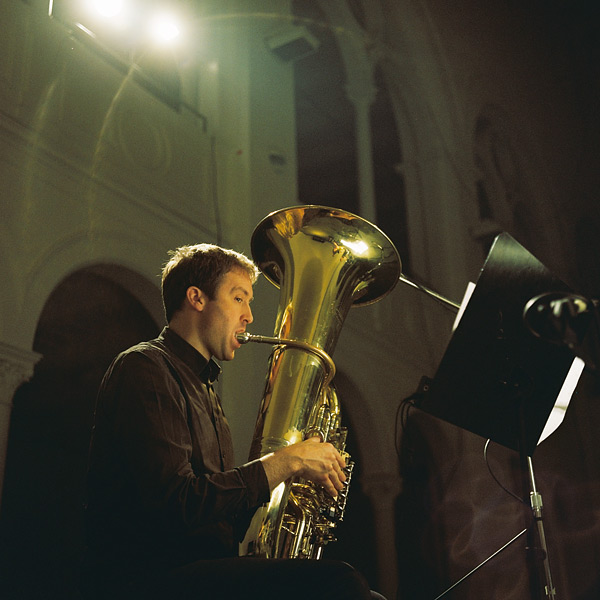 In collaboration with L'Envers
Innovations in concert is delighted to present tuba player and composer Robin Hayward! This Berlin-based tuba player is a key developer of the improvisation style which has come to be known as Berlin Reductionism – and in 2009 Robin developed the first fully microtonal tuba, which he brings with him here to Montreal.
As a performer he has inspired new works written for him by the likes of Alvin Lucier and Christian Wolff. He has redefined the tuba's potential both in the areas of noise and microtonality, and his compositions for other instruments reflect a similar experimental, medium-specific approach. His approach to the tuba has been documented in the solo CDs Valve Division and States of Rushing, along with various collaborative releases. Active in many contemporary music ensembles including Phosphor and Kammerensemble Neue Musik Berlin, in 2005 he founded Zinc & Copper Works for continued research into brass instruments.
Robin will present two workshops examining his approach to composition, experimental brass, microtonality and improvisation. Together with his trio Zinc & Copper Works, he will also present two concerts in collaboration with some of Montreal's finest improvisers.
Friday, December 9, 9 pm: Zinc & Copper Works with Ellwood Epps (trumpet), Pierre-Yves Martel (viola de gamba) and Isaiah Ceccarelli (drums)
Saturday, December 10, 2:30 pm to 4 pm: Free composition workshop exploring wide topics such as alternative tuning systems and alternative notation styles. Robin will discuss his own works, and composers are invited to bring scores and recordings for discussion.
Saturday, December 10, 4 pm to 5:30 pm: Free workshop on experimental brass, microtonality and improvisation (of interest to improvisers, brass players, composers, and other curious sorts). Performers are invited to bring their instruments.
Saturday, December 10, 9 pm: Zinc & Copper Works with Amy Horvey (trumpet), Rainer Wiens (guitar) and Philippe Lauzier (clarinet)
The visit of Robin Hayward to Montreal is made possible with the support of the Canada Council for the Art's Visiting Foreign Artist Program, which allows Montrealers to benefit from the presence of this unique and important composer, instrument designer, academic, and improviser, through this concert and various community activities.