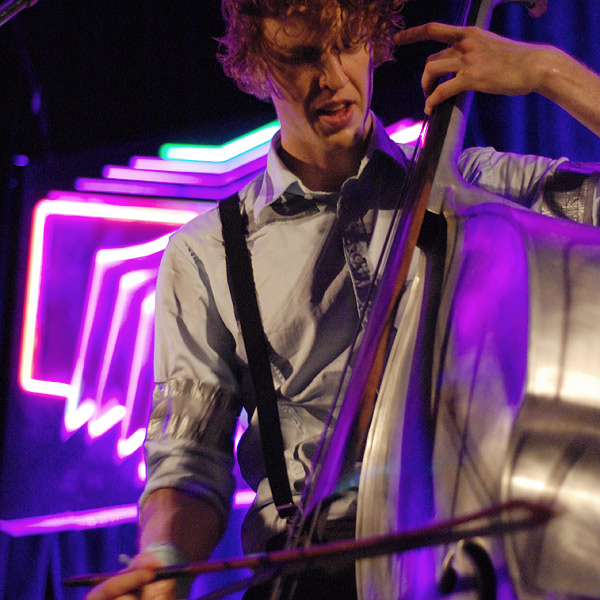 Richard Reed Parry, bassist of the Arcade Fire, and electro-acoustic composer of note, is the creator of a new large scale project to be presented as a half time show at the Pop Montreal celebrity basketball match for charity.
DRONES/REVELATIONS is a site specific 20 minute multichannel composition for voice, woodwind, strings and synthesizer.  Each musical voice within the piece is individually prerecorded, and in performance is broadcast discretely through individual moving speakers mounted on bicycles which circle the audience for the duration of the piece.  The composition is inspired by the book of Revelation and the approaching reality of the military's use of pilotless "drone" bomber planes.
A completely unique and immersive sound world is created, taking as its inspiration the works of Gorecki, Glenn Brance, Tim Hecker, Colin Stetson, Ligeti, Meredith Monk and Osvaldo Golijov.
This project is a co-presentation of Innovations en concert and Pop Montreal, and Richard's personal involvement in the event and surrounding activities is supported by the SOCAN Foundation.
About the charity basketball game:
POP Montreal is very happy to be working with Innovations en concert, Win Butler of the Arcade Fire and and Dexter John of DJ Sports Club to bring you our first annual POP vs JOCK CHARITY BASKETBALL GAME. All proceeds from this game will go towards DJ Sports Club, a non profit charity organization in Montreal's southwest borough that offers sports and education programs to youth aged 7-17.The game will feature the ferocious Butler brothers leading a team of musicians (team POP) against an all-star team comprised of standout players from the current McGill Redman and Concordia Stingers (team JOCK). Guests will include NBA Veteran Matt Bonner of the San Antonio Spurs and Chris Tomson of Vampire Weekend, as well as surprises. The halftime show will feature performances by Kid Koala, organ played by Régine Chassagne and the world premiere of a bicycle symphony called DRONES/REVELATIONS composed by Richard Reed Parry. This will be the sporting event of the year in Montreal – don't miss it!
For tickets and more information check popmontreal.com or the Red Bird Sports Shop at the McGill Sports Centre, 514-398-1539