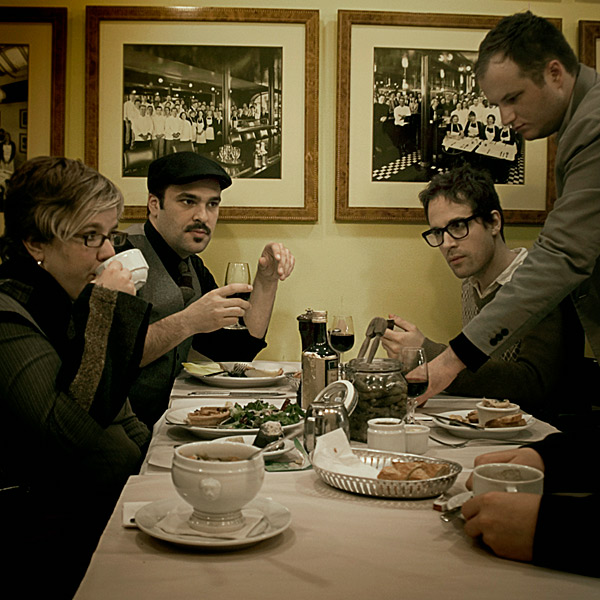 Quartetski Does Tobias Hume
Captaine Hume's Musicall Humors
Quartetski was formed in 2007 with the goal of rethinking and reinterpreting works by great composers within an improvised context. While staying true to the spirit of those composers, Quartetski uses their compositions as vehicles to discover new musical horizons, creating in the process a mosaic that is equal parts homage and exploration.
After the release of their first album Quartetski Does Prokofiev, an hommage to Henry Purcell, as well as an exploration of Erik Satie's fanciful piano pieces Sports et divertissements, Quartetski now takes on the challenge of reinterpreting the music of baroque mercenary, viola da gamba player and part-time composer Tobias Hume.
Pierre-Yves Martel – viola da gamba, turntable, arrangements
Isaiah Ceccarelli – percussion, objects
Amy Horvey – modern and baroque trumpets
Philippe Lauzier – bass clarinet, soprano saxophone
(with special guest Malcolm Sailor of The Youjsh – toy piano)
The Youjsh
Combining elements of jazz, klezmer, rock, and improvised music, the Youjsh defy classification. One thing is certain, however – their duelling horns and rock-solid rhythm section get feet on the dance floor. According to pianist, composer, and bandleader Malcolm Sailor, inspiration for the Youjsh originated in St Henri's underground drunken klezmer-punk scene (which, conveniently, happened to be located in his apartment). Four years later, the Youjsh have shared the stage with Leif Vollebekk, Bent By Elephants, and Tune-Yards, and been featured at Pop Montreal 2009 and the L'Off Festival du Jazz de Montreal, among many other venues.
The band's name – derived from "the usual" – belies one of its most unique attributes: the fact that each song is dedicated to Malcolm Sailor's former flatmate Steve Day. Titles like "You are the Steve Day of my Life", "How Fast Can Steve Day Go?" and "What the World Needs Now is Day, Steve Day" create a musical landscape which is by turns autobiographical and eccentric, but never fails to entertain!