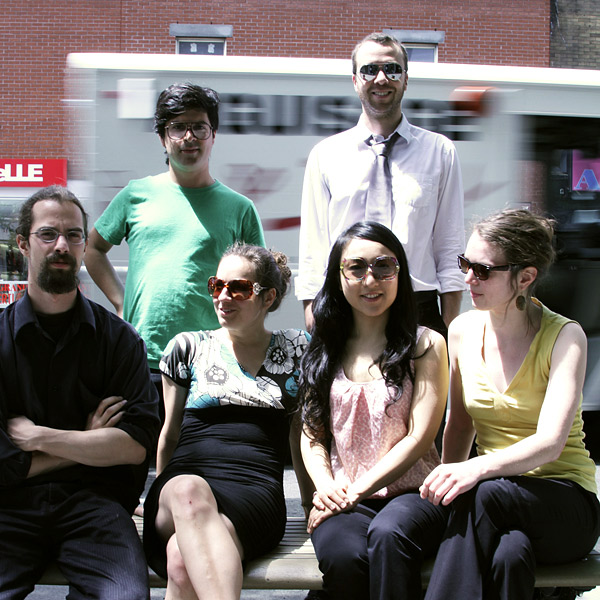 The breathtaking intensity with which Ensemble Allogène approaches chamber music brings an intimate, thrilling interpersonal dialogue to the stage.  Their idiosyncratic programming and clarity of focus set them apart in Montreal as a unique voice.
On this evening's programme, Ensemble Allogène performs two pieces by Québécois composers. Maxime McKinley's piano trio Mauricio is a colourful and humourous hommage to the Argentinian composer Mauricio Kagel, in which he plays cannily with various references to Mozart, Beethoven, Molière, tango, Kagel and his own previous works; and performer-turned-improviser-turned-composer Émilie Girard-Charest combines her skills for the premiere of a new work for five musicians based on a text by Christof Migone.
Also on the program is Gordon Monahan's Piano Mechanics, a fascinating work which re-composes the notion of Piano. The instrument is treated here not as a traditional concert instrument but rather as a machine for the synthesis of sound – a machine which excavates sonorities not normally associated with this instrument. It is a program epitomizing the distinctive Allogène aesthetic: concentrated, rigorous, and entirely absorbing.
PROGRAMME:
Maxime McKinley – Mauricio (14 min.)
Émilie Girard-Charest – création (12 min.)
Gordon Monahan – Piano Mechanics (25 min)
flûte (Yuki Isami)
violon (Lizann Gervais)
violoncelle (Émilie Girard-Charest)
piano (Daniel Áñez)
voix, basse (François Dubé)